Sometimes a client comes to us with an idea and asks us to execute it.
When Victoria Secret's Angels were all the rage, this client brought her own wings—added a feather boa and had a great time posing.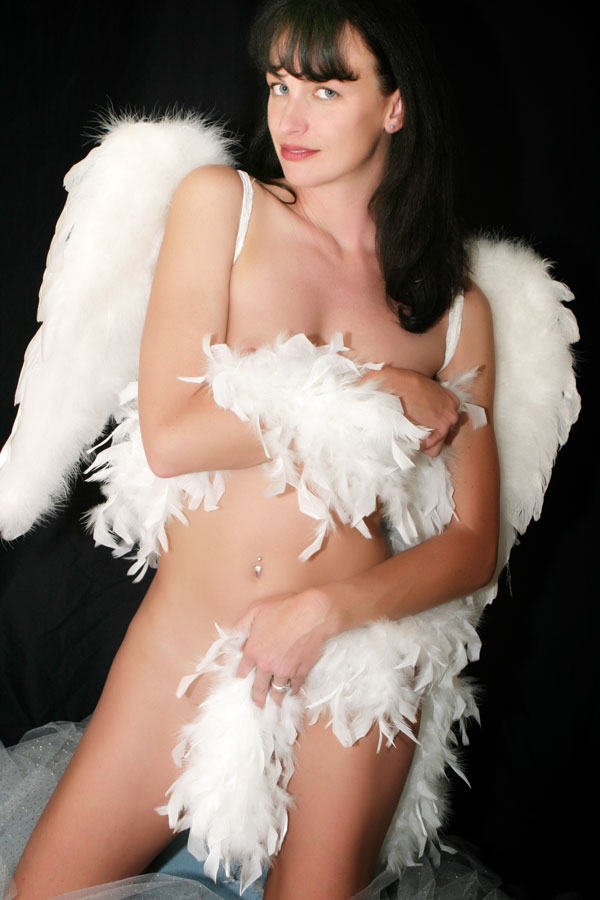 Initially the images were made with the subject wearing her bra and panties but she decided she wanted to create what photographers call an implied nude, poses where the subject is actually nude but because of the pose, what she's holding or wearing and where she places her hands is not a fully, uncovered nude.
As you see this is not a completely "implied" image because there's some what she though was tasteful nudity included—but this is always the subject's decision, not the photographer's.
At Blue Moon Boudoir Photography our style of intimate portraiture does not require nudity but only to create a sexy photograph for the subject's significant other. The secret of any portrait—especially intimate portraiture—is for the person being photographed to be as comfortable as possible. If you're comfortable then the finished portraits will look better and you'll be happier with the results. When it comes to wearing different styles of lingerie, everyone has different comfort levels and what may be too revealing for one person is different for another, so ultimately the decision about what to wear or (not) is up to you.
Please contact us via phone at 720-515-4497 or via the Contact tab above and tell us what you have in mind and let's schedule a photo shoot or a coffee to talk about your own unique intimate portrait.