One definition of nude is that it's "A naked human figure, typically as the subject of a painting, sculpture, or photograph," while the definition of naked is "(of a person or part of the body) without clothes."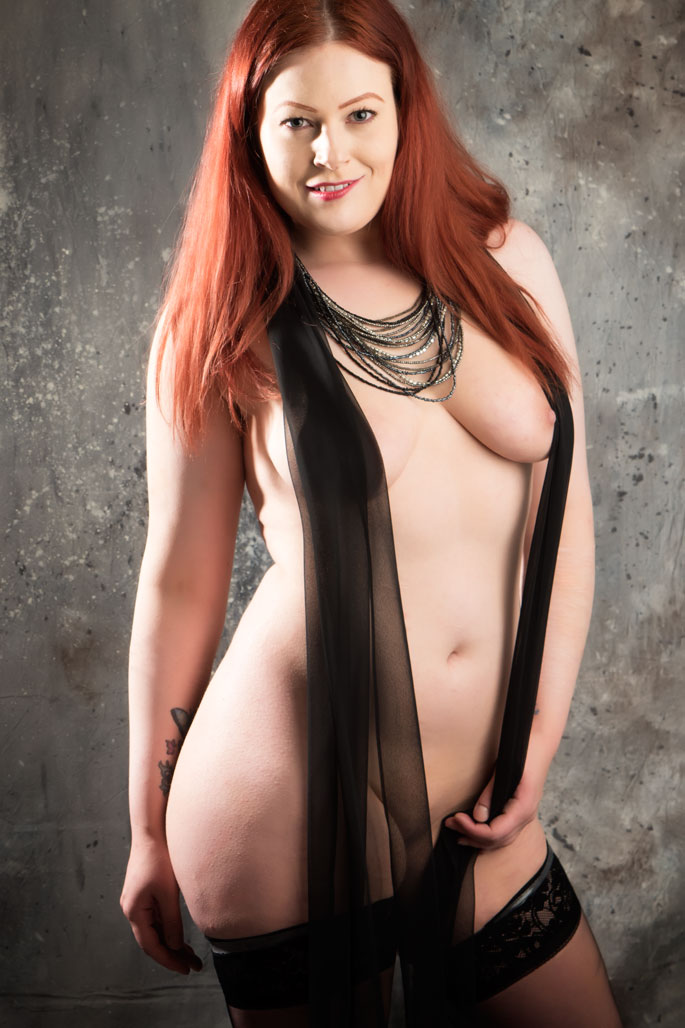 As an art form, nude photography is a stylized depiction of the nude body with the line and form of the human figure as the primary objective, which is why many people consider an art nude photograph to be one that studies the human body, rather than the person themselves.
No matter what form of media they prefer to work in, the nude has long been a subject for artists. Photographers, in particular, have been creating images of beautiful unclad women ever since the invention of the photographic process more than 150 years ago. Early photographers used terms from painters to differentiate the differences between the art nude and figure nude but there is no one standard nude genre.
Our own style of nude photography for our clients is not typically the fine art or figure study, often rendered in black and white, but is the glamour nude, a more idealized form of the genre and often the subject is nude or partially nude, wearing something, if only as in today's example, a scarf. The client is not completely nude because that is the style of image she wanted us to create. That's because we, at Blue Moon Boudoir Photography, place the client's wishes and desires ahead of our own ideas and concepts and as can be seen in some of our recent blog posts that feature a very different way of producing intimate portraits. As always, we remain at the services of our client.
Please contact us via the Contact tab above and tell us what you have in mind and let's schedule a photo shoot. Call us today to make and appointment for your own unique intimate portrait.