There is no one way to make a boudoir photograph or intimate portrait. It all comes down to you and your own personal style.
Recently some of our blog posts have featured photographs that contain a nudity but your should be aware that nudity is not always necessary for the best intimate portrait. As we make perfectly clear in the FAQ section of this website, "The secret of any portrait—especially  intimate portraiture—is for the person being photographed to be as comfortable as possible. If you're comfortable then the finished portraits will look better and you'll be happier with the results.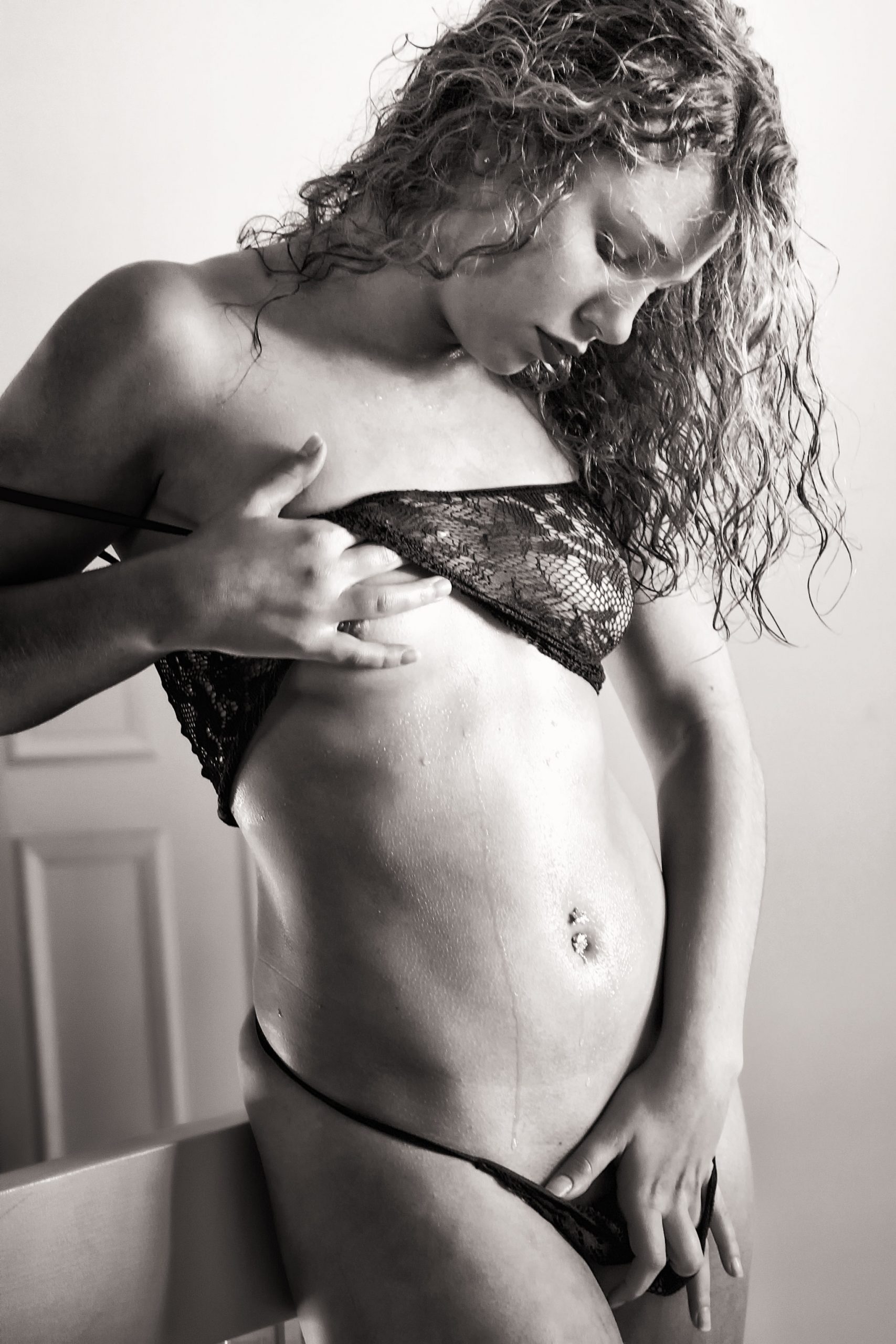 I wanted to share this concept because some women may not own any lingerie other than basic underwear. ("Not that there's anything wrong with that"— to quote Seinfeld.) I've done many sessions with the client in basic bra and panties, or in the today's image with underwear that she was wearing to the session, because ultimately any intimate portrait is about the subject's face.
The number one concern that some clients have about their first intimate portrait session is surprisingly not about their appearance but that they don't know how to pose. After all, this may be their first portrait session since their wedding photos or even their high school yearbook picture…and they're going to be wearing a lot less clothing.
Here's the good news: You don't have to worry about—we'll take care of the posing. And we have a simple philosophy about that subject: Our aim is to create a natural looking pose even if the situation under which the portrait is being made is anything but natural.
We'll work with you to come up with an image that is different than others. Blue Moon Boudoir Photography is not a cookie cutter operation cranking out identical photographs; all of our portraits are unique creations that fit the style and personality of the woman being photographed. Let us capture the real you. Click Contact or call 720-515-4497 today.
---
Since the governor lifted the "stay at home" order, we have had our home and home studio professionally cleaned and sanitized five different times so that when the "all clear" is sounded, we'll be ready to photograph you.