"I don't mind being burdened with being glamorous and sexual. Beauty and femininity are ageless and can't be contrived, and glamour, although the manufacturers won't like this, cannot be manufactured. Not real glamour; it's based on femininity."― Marilyn Monroe
Shooting boudoir images outdoors means that we are going to have to be creative about where and when we photograph you. The process starts by looking for places that will accommodate to the needs of intimate portraiture, not just photographically but for the client's comfort as well. One client found a wonderful lakeside location but when the ants started crawling all over her, the session was over.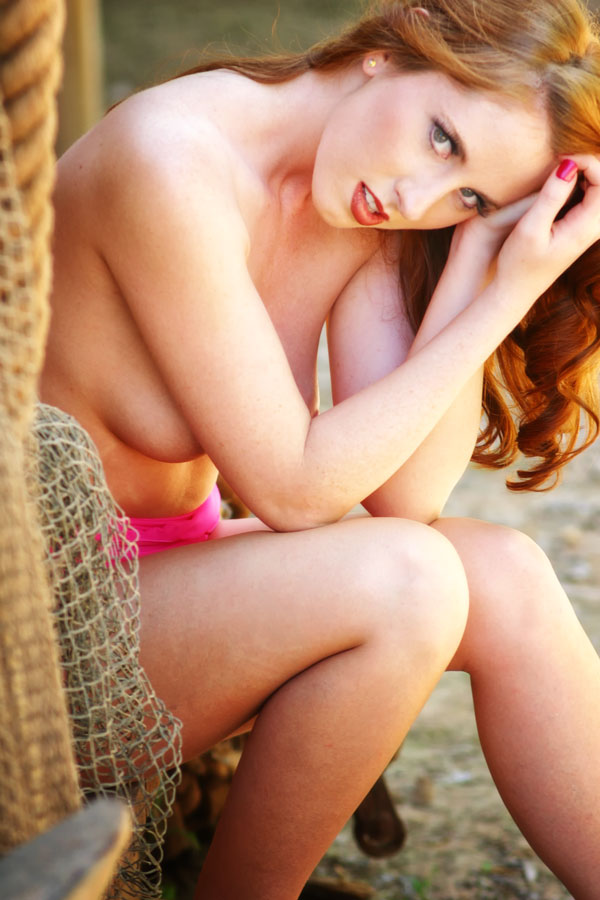 Private locations for intimate portraiture are best. You may even have such a location at your own home or even a friend's home. The right locations provides a space where a the subject can pose and be comfortable at the same time. One of the positive aspects of outdoor portraiture—especially intimate portraits such the one at left—is that there's always something for the subject to interact with.
Sometimes the location and the subject's clothing—or lack thereof—will dictate a pose. The point of any pose, especially in intimate portraiture, it to start with an idea, give a suggestion to the client, watch what happens, and then improve on what the photographer sees. On this "dock" at an outdoor movie studio in Phoenix, I told the subject to get comfortable leaning against the ropes, the rest was her interpretation.
That's why during a shoot, wes constantly let the subjects see what the images look like—on the camera's LCD screen—so they understand the kind on portraits that are being captured. If they don't like what they see, we try something different; if they like what they see we work on improving the portrait until its the best and the subject is at their most beautiful.
Our clients tell us they like the playful nature of our intimate portraiture session but we can be as serious as you want to be: It's up to you. Please contact us via phone at 720-515-4497 or via the Contact tab above and tell us what you have in mind and let's schedule a photo shoot. Call us today to make and appointment for your own unique intimate portrait.