"All I ever wanted was to be a sexy bride, and actually, I think I've turned into a romantic bride."—Poppy Delevingne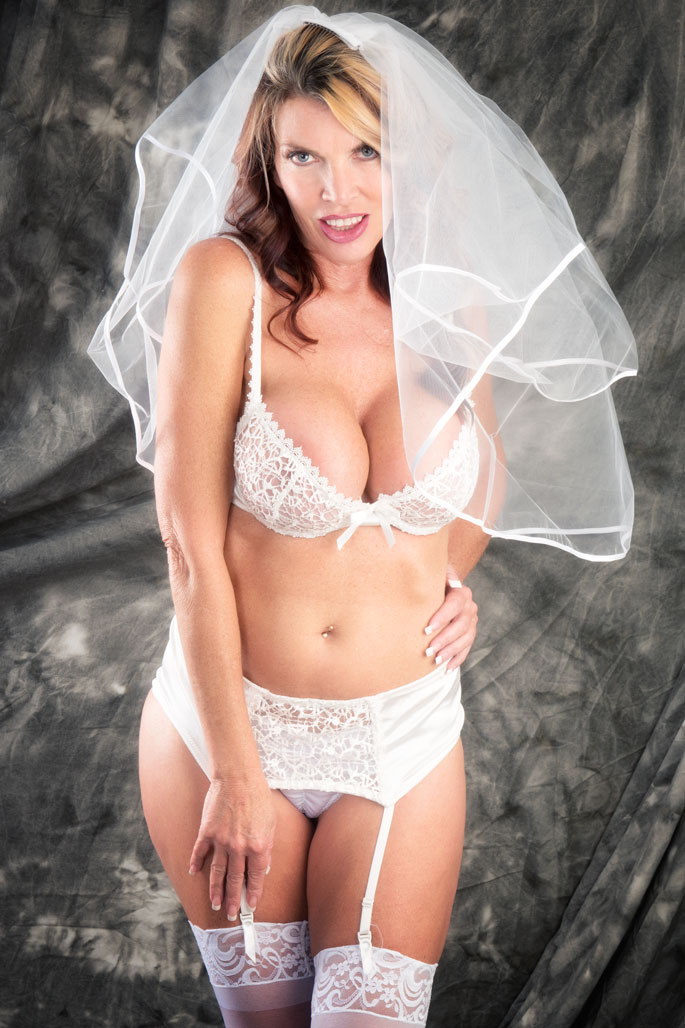 In a prior post, I said that when clients ask me what they should wear for an intimate portraiture shoot, it can sometimes be challenging to answer, but my ultimate suggestion is why not have fun with it?
That happened recently when I suggested to a repeat client that we photograph her wearing bridal style lingerie, complete with veil. She thought it was the dumbest idea that she ever heard and told her husband that, even though she ordered an inexpensive veil from Amazon just for this shoot.
I also suggested that she wear a white bra and panties and well as a white garter belt and white shoes, although you can see them in today's featured image. While this kind of art direction goes beyond the kind of suggestion that I normally give a client but we had worked together the year before and I thought this would be an interesting fantasy outfit for her.
She still wasn't sure as she put on the outfit but I thought that she looked gorgeous and sexy. After we made the first shot and I showed it to her, she agreed with me that is was "amazing." For the record, this is the fourth shot of this particular series that we made that day. We went on through several other outfits during the Extended Studio Shoot we did, but this was my favorite.
Please contact us via phone at 720-515-4497 or via the Contact tab above and tell us what you have in mind and let's schedule a meeting to talk about concepts for your highly personal photo shoot. Call us today to make and appointment for your own unique intimate portrait.
---
*Our main photographer received his first dose of the COVID-19 vaccine in December and received the second dose on January 25. We have had our home and home studio professionally cleaned and sanitized ten different times since the pandemic started so we're be ready to photograph you when you're ready to be photographed.