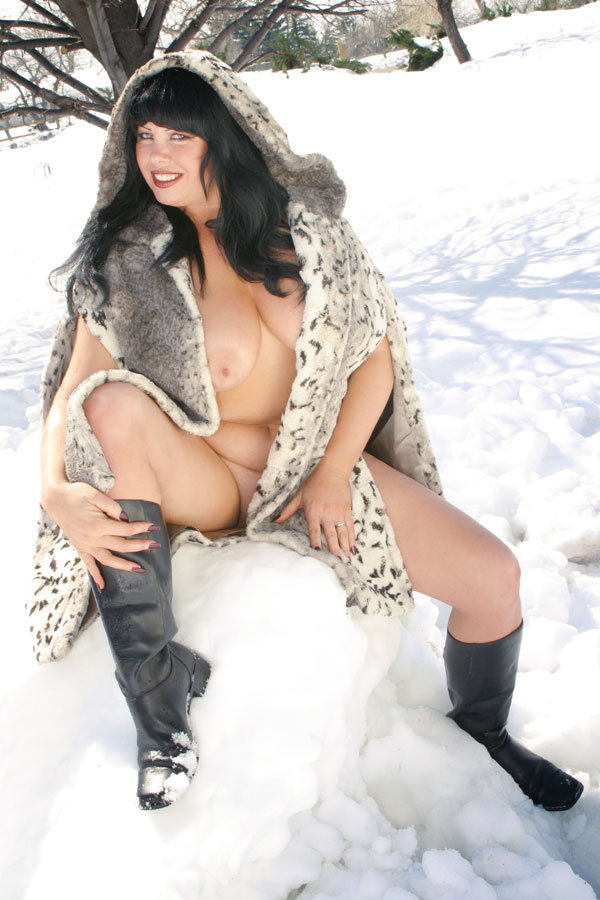 Yup, that's real snow in this photograph!
One of the best glamour models I ever worked with actually found me though one of the several on-line glamour model websites. I had posted a request for models 19-29 years of age and Dawn e-mailed me asking if I had anything against models over 30!
I invited her to a test shoot and over the years I have come to know and respect her not just as a model, but also as a wonderful human being which changed my mind and showed me that glamour and sensuality is part of every woman, no matter their age.
In addition to having a curvy, voluptuous body and a wonderful attitude, Dawn is adventurous enough to try shooting nudes after a three-foot Colorado snowstorm.
As we grow older we also grow wiser but at the cost of a few wrinkles and grey hairs and needless to say, the effects of gravity of which I dare not mention. All of which brings me to the subject of retouching. All of our portraits are retouched for the simple fact that once an appointment is scheduled something can happen that may mean we don't look our best on the day of the photo shoot. Dawn's portrait is retouched the way we typically do for a portrait of a mature woman; we don't want to erase everything on her face to make her look like a high school senior—that's not what we do. But we can make the most beautiful—and sexy—you that's possible.
Please contact us via phone at 720-515-4497 or via the Contact tab above and tell us what you have in mind and let's schedule a photo shoot. Call us today to make and appointment for your own unique intimate portrait.