noun: cliché; plural noun: clichés; noun: cliche; plural noun: cliches, 1. a phrase or opinion that is overused and betrays a lack of original thought. 2. a stereotype or electrotype.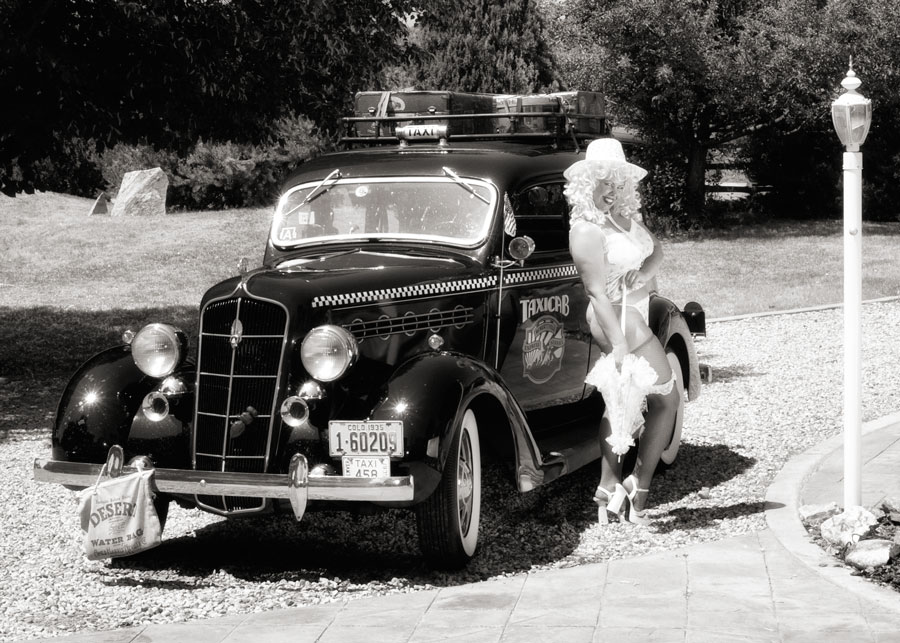 Is there a bigger cliché than an attractive woman posed next to a car? I don't think so but that doesn't mean you can't have fun with these kinds of clichés.
Take today's post for instance, in which the client, who's a friend, is posed next to another friend's 1935 Plymouth taxi. It was shot in color but converted to a warm-toned black and white image to capture the nostalgic aspect of both the car and what the client is wearing.
In this case, the client wanted a black and white portrait but, as always it's your choice. And in fact, using special techniques we'll make both black and white digital images to show you how each version—black & white or color—looks so you can make the choice—not us.
If you have a favorite car that you would like to be photographed with while wearing lingerie, we'll be glad to do an on-location session—you have to provide the location—featuring that car and you at no additional cost for an on-location session. Just use the coupon code "classic car" when booking the session.
Please contact us via phone at 720-515-4497 or via the Contact tab above and tell us what you have in mind and let's schedule a photo shoot. Call us today to make and appointment for your own unique intimate portrait.