"Glamour isn't about age, shape or size. You don't have to be pretty to have it, anyone can create it."—Dita Von Teese
They may not be the actual subject of an intimate portrait but props and backgrounds can not only enhance but can actually improve the overall look of your intimate portrait. At our home-based studio, we don't have lots of props—hardly any in fact. But one that has been used in different ways by different clients over the years is a red cloth covered Queen Anne Chair.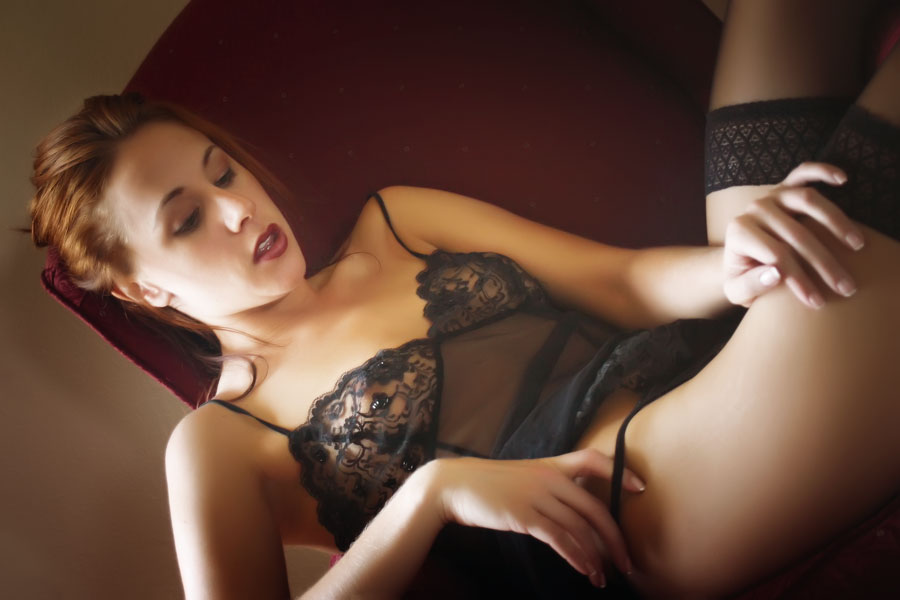 If you would like to try sitting in the red chair for your intimate portrait, just let us know. As you can tell by this example and the one that's above, the images produced during these two sessions are very different, although the client shown here is wearing lingerie we have also done some nude images here. The only constant being the chair.
If, on the other had, you have something of your own, something personal—an object, memento or even an item of jewellery—that you think will add to the specialness of your own intimate portrait, please do bring it along and let us fashion a memorable portrait using this object but with you as the star.
If you have a favorite piece of furniture, please don't bring it along. We'll be glad to do an on-location session featuring that item of furniture for you at no additional cost for an on-location session. Just use the coupon code "red chair" when booking the session.
Please contact us via phone at 720-515-4497 or via the Contact tab above and tell us what you have in mind and make an appointment for your own unique intimate portrait.