"Being natural is incredibly empowering for women because it's just who you are. You're embracing all the beautiful things about you from your head to your toes. Because when you mask so much of your natural beauty, people don't get to see that."—Rozonda Thomas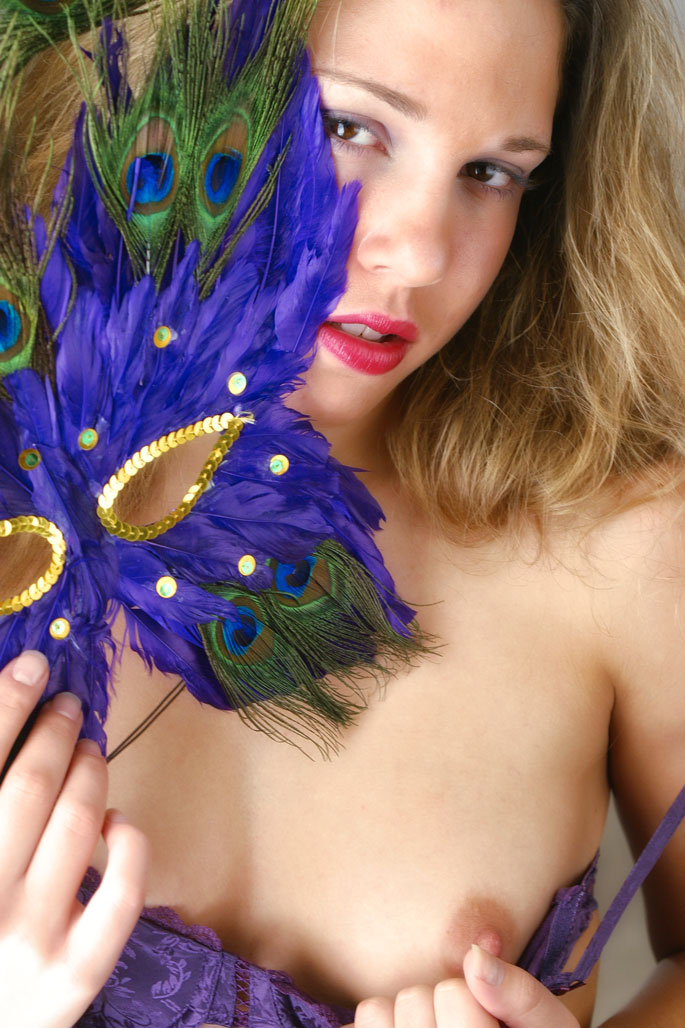 One of the first questions that people ask about having an intimate portrait made is "what do I do with my hands." One of the simplest and best answers is to hold something and props can make a big difference in separating your portrait from someone else's. The more personal the better. Or you can pick a prop and have it match your clothing or makeup or in this case both.
F is for feathers. The feathers are the top of a mask that frame part of the subject's face and add a colorful touch while giving the subject something to do with her right hand while the left hand is following an old photography posing suggestion to "rip off your clothes."
Inexpensive accents like flowers, drapes, baskets or vases can set different moods with the same prop and background. There seems to a trend away from high-key white props and more toward vintage colors like ivory, walnut, and neutral greens. But ultimately it's up to you.
Here at Blue Moon we have a small collection of props that you can use, like our collection of feather masks, if only to see how you like working with it. It might me be used in the final portrait or your favorite one. It's all about trying something new, while giving you something to do with your hands.
Please contact us via the Contact tab above and tell us what you have in mind and let's schedule a photo shoot. Call us today to make and appointment for your own unique intimate portrait.