This fashion trend was spearheaded by Joel Alvarez, a designer from Miami who launched an artistic venture called The Black Tape Project that has more than 200,000 followers on Instagram.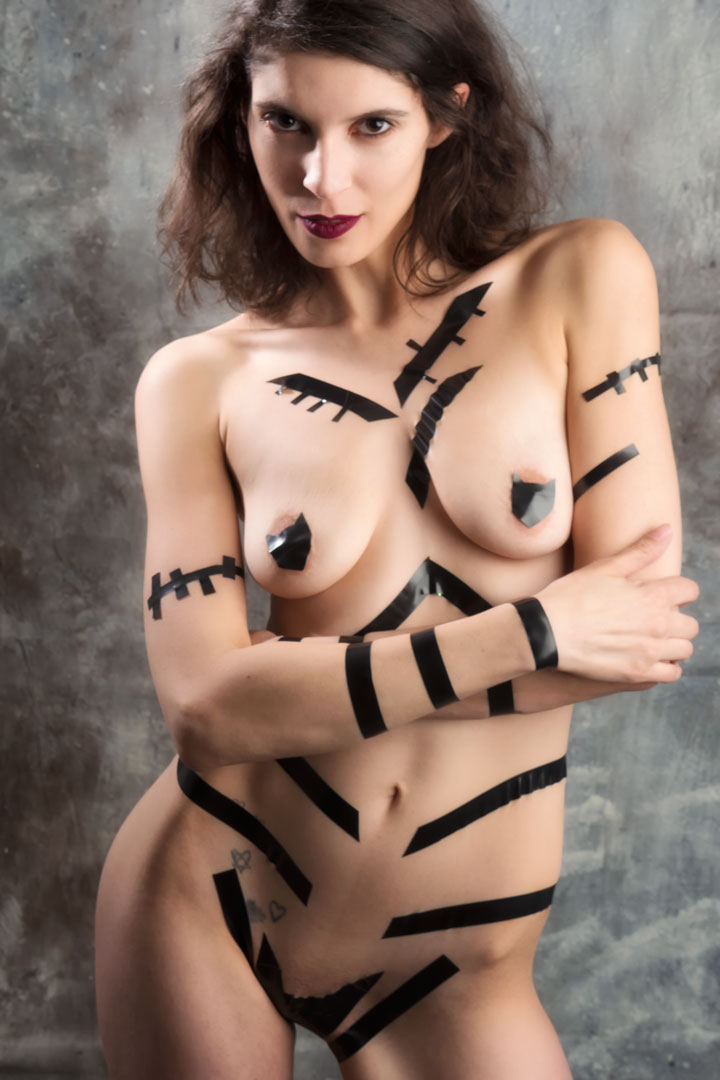 If The Black Tape Project is something that you're interested in trying for your own intimate portrait, here are some tips you can use to make approaching the tape project smoother and making sure you have fun in the process.
Start with a fresh roll of 3/4-inch electrical tape from Home Depot or Lowes. Get the good stuff, a 66-ft roll of Scotch electrical tape costs less than two bucks.
If you're adventurous, Scotch also makes electrical tape in other colors including red or violet. This tape costs more, less that four bucks but if you have a favorite color it will add to the fun.
Because you can never be too careful with adhesive's effects on people's bodies, especially if you have sensitive skin, cut a small piece of tape and apply it to an out-of-the-way part of your body and leave it on for an hour or so. Carefully peel it off and make sure you don't have any kind of allergic reaction. If you do, the Black Tape Project is not for you.
Because the actual cutting and applying of the tape takes more time than you think, it makes sense to have a plan. Begin by working with a print of nude portrait of yourself—even an Instax instant print will work—and sketch lines on it using a Sharpie to create a design. That way when it comes time for your photo shoot, you'll be able to start taping without delay. If you like, for a nominal fee we can provide a female assistant to cut and paste the tape on you. Just ask.
Please call us at 720-515-4497 or contact us via the Contact tab above and let's schedule a photo shoot. Call us today to make and appointment for your own unique intimate portrait.
A new trend involves the use of metallic tape and we plan to pick up some and do some test shots. If you would like to volunteer to have (any kind of) tape applied to you—you can do it yourself too if your prefer—during a FREE intimate portrait session click on the Contact tab and tell us you'd like to give it a try.
---
On a health note: Our chief photographer received the first dose of the COVID-19 vaccine in December and received the second dose on January 25. We have had our home and home studio professionally cleaned and sanitized nine different times since the pandemic started so we're be ready to photograph you when you're ready to be photographed.