The dictionary definition of "nude" is "A naked human figure, typically as the subject of a painting, sculpture or photograph."
One of the most common comments and questions that we get from prospective clients: "I'm a modest person and don't want to pose nude; do I have to?" No, you can be as nude—or not—as you want to be. That's because the secret of producing the best possible intimate portrait is that the person being photographed should be as comfortable as possible. If you're comfortable the portraits will look better and you'll be happier with the results.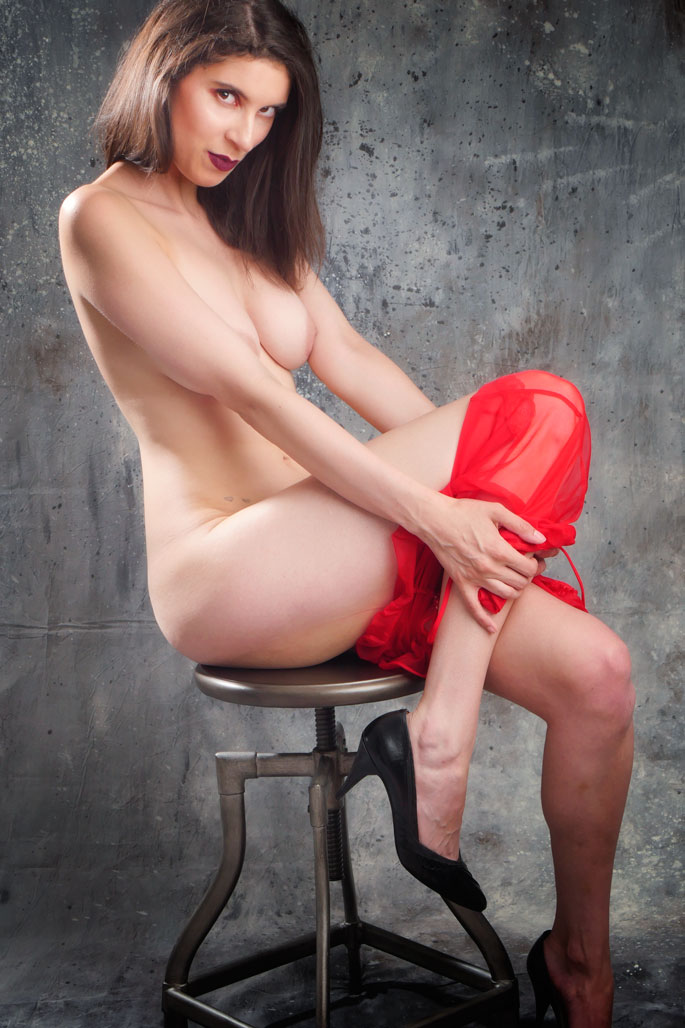 The very first boudoir portraits I made, were in the late 1970's for a couple that wanted a nude portrait of themselves to hang on the wall above their bed. And yes, we do couples and sexy friend shoots, details can be found in the answer to question #6 on our Frequently Asked Questions page.
Our nude photography for clients is typically the glamour nude, that's a more idealized form of the genre. If you're interested in a fine art portrait, we can create a fine art approach to nude photography that you can proudly hang in your home as well and will coordinate having an wall-size print made at no additional cost to you—you pay the photo lab directly for the print. In either type of portrait the subject can be partially nude or fully nude, although today's example not really full nude because that's what the client wanted us to create.
Some images that people want to hang on their wall are made in black and white because they feel the image is more abstract, more artistic. On the other hand, if you prefer something more personal, the image should definitely be in color, like toda's portrait. As in all of the options you have available at Blue Moon, you get to make the final decision based on what you want.
Please contact us via phone at 720-515-4497 or via the Contact tab above and tell us what you have in mind and let's schedule a photo shoot. Call us today to make and appointment for your own unique intimate portrait.