Our answer to the above question is always the same: Whatever you want.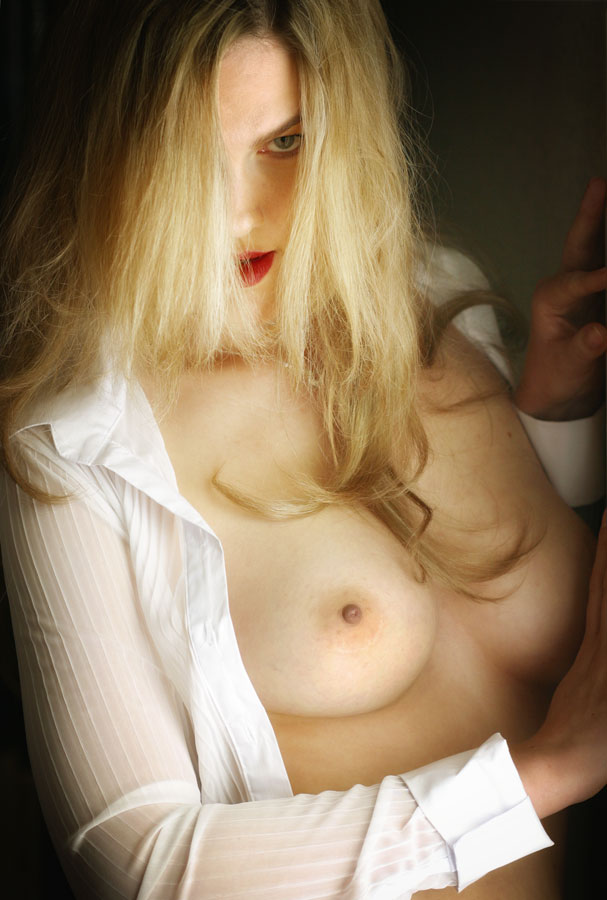 There is no one style that fits all of the possible concepts found in intimate portraiture and the truth is that, as I've mentioned in a previous post, you don't need to wear much or anything at all. It's all about where your comfort zone is. But here are a few tips you might keep in mind or ignore completely; it's all up to you and about you, after all.
Comfort: Seems obvious doesn't it but whatever you wear should fit and be comfortable. If it isn't you'll be fidgety and uncomfortable trying to make something that won't work—work. And that always, always results in photographs you won't be happy with. If you're comfortable in what you're wearing, it's one less thing to think about during the photo session.
Sexy: The outfit should be sexy and can reveal as much of you as is (and I hate to use this word again but it fits) comfortable within the context of this particular portrait. This portrait is a perfect example, it's obviously sexy and she's also, sort of, wearing a blouse, the outfit is also…
Personal. What you wear should reflect your personality as this portrait shows someone who sexy and has a distinct personality.
We will work with you to come up with an portrait that is different than al0l of the others that we've made. If you look through this blog you will see women of all ages, sizes and ethnicities and we take pride in the fact that none of the photographs look like one another.
Blue Moon Boudoir Photography is not a cookie cutter operation cranking out identical photographs; all of our portraits are unique creations that fit the style and personality of the woman being photographed. Let us capture the real you. Call 720-515-4497 or click the Contact button to make an appointment for your intimate portrait today.