Some of our clients are interested in posing for for implied nude images where they are actually nude but because of the pose and where she places her hands in not a fully, uncovered nude. This is sometimes known as an "implied" nude.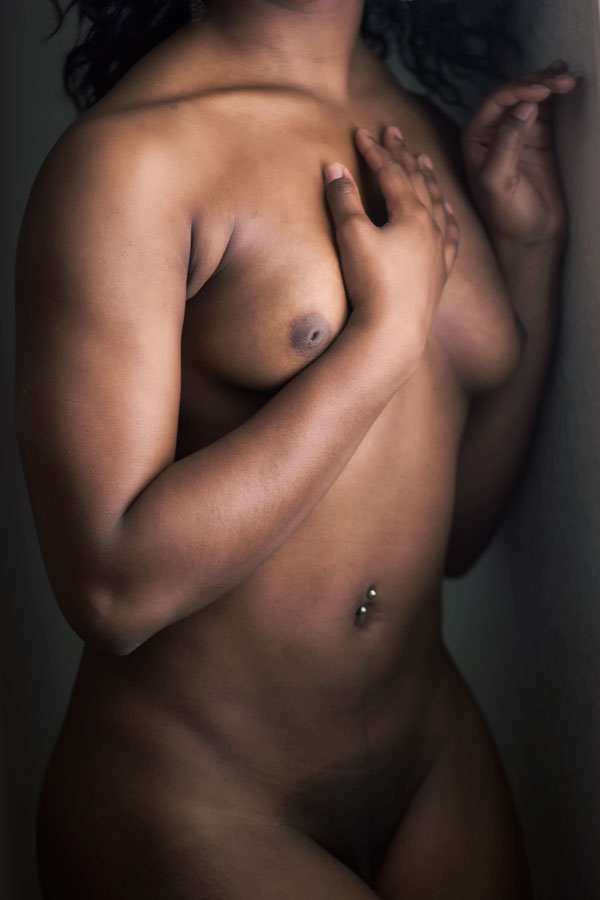 Another category of nude is the "anonymous nude" where the client is willing to pose nude but doesn't want her face to appear in the photographs, as can be seen in the image at left. This is more often the case for fine art nude photography than when shooting intimate portraits but that doesn't mean you can't give it try if you want to see if images like this might work for you.
The option of posing nude, where implied or anonymous is just that—an option. Ultimately how you appear in your intimate portraits is up to you. The secret of any portrait—especially an intimate portrait—is for the person being photographed to be as comfortable as possible.
If you're comfortable, the finished portraits will look better and you'll be happier with the results. When it comes to wearing different styles of lingerie, including no lingerie at all, everyone has different comfort levels and what may be too revealing for one person is different for another, so ultimately the decision about what to wear (or not) is always your choice.
If you're interested in having a classic or fine art nude image made we'll work together to either make the most beautiful possible portrait, as we did here for this client. A comfortable client lets us make the best possible intimate portrait—and that is always our goal.
Please contact us via phone at 720-515-4497 or via the Contact tab above and tell us what you have in mind and let's schedule a photo shoot. Call us today to make and appointment for your own unique intimate portrait.